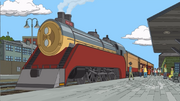 Wine Rail is company that operates a wine tasting train known as the Wine Train that the Belcher Family ride on in The Kids Rob a Train.
Regular Sized Rudy's father Sylvester Stieblitz is a regular on the train, he takes his dates there at weekends while Rudy sits in the "Juice Caboose",
Children are allowed but not welcome on the train. They sit in the "Juice Caboose" which is a small carriage that has a beanbag (formerly), building blocks, magazines, hourly juice delivery from employee, Ethan and a toilet which the trains' chocolatier likes to use.
Ad blocker interference detected!
Wikia is a free-to-use site that makes money from advertising. We have a modified experience for viewers using ad blockers

Wikia is not accessible if you've made further modifications. Remove the custom ad blocker rule(s) and the page will load as expected.