"SEW-SEW AVERAGE NEEDLE POINT SUPPLIES"
A play on the phrase, "so-so".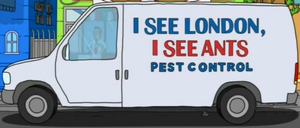 "I SEE LONDON I SEE ANTS"
A play on playground jingle denoting that someone's underpants are visible.
"Do Fry For Me Argentina Burger"
A play on the song "Don't Cry For Me Argentina" from the musical Evita.
There are brackets but Bob obscures them in every shot.
"-zel Burger"
Not fully visible, implied to involve a pretzel bun.
"I Know What You Did Last Summer Squash Burger"
"Chili Wonka Burger"
A reference to the character Willy Wonka from the Roald Dahl book "Charlie and the Chocolate factory" and its two movie adaptions.
"Corned Identity Burger" (comes with corned beef)
A play on the first installment of the Jason Bourne Trilogy, The Bourne Identity.
"Tangled Up in Blueberry Burger" (comes with a blueberry compote)
A play on the Bob Dylan song, "Tangled Up in Blue."
"When Harry Met Salumi Burger"
A play on the movie, When Harry Met Sally.

Characters including the Belcher Family, Jimmy Pesto, Jr., Andy and Ollie Pesto, Jack, Jack's son, Hugo and Ron slide along the aqua slide at Jack's birthday party.
Ad blocker interference detected!
Wikia is a free-to-use site that makes money from advertising. We have a modified experience for viewers using ad blockers

Wikia is not accessible if you've made further modifications. Remove the custom ad blocker rule(s) and the page will load as expected.