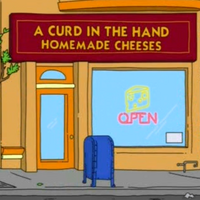 "A CURD IN THE HAND HOMEMADE CHEESE"
A reference to the phrase, "A Bird in the Hand is Worth Two in the Bush."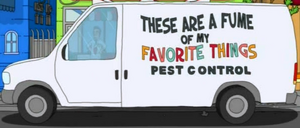 "THESE ARE A FUME OF MY FAVORITE THINGS PEST CONTROL"
A reference to the song "My Favorite Things" from the musical The Sound of Music
"Glory Glory Jalapeño Burger"
A play on the line "Glory, glory, hallelujah!" from the American patriotic song "The Battle Hymn of the Republic."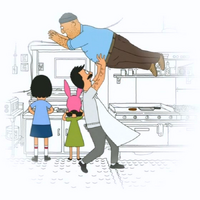 Standard credit sequence. Teddy and Bob sing "(I've Had) The Time of My Life" from Dirty Dancing and perform the famous lift from the movie's climax. Gene enters on screen from the left.
Ad blocker interference detected!
Wikia is a free-to-use site that makes money from advertising. We have a modified experience for viewers using ad blockers

Wikia is not accessible if you've made further modifications. Remove the custom ad blocker rule(s) and the page will load as expected.