The Ta Tas are a band that formed at Cardinal Gennaro High School. They reunited to the play the schools 25 year reunion in 2013.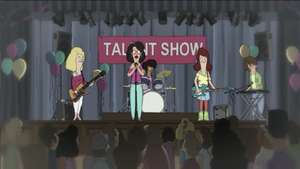 Members
Songs
We're the Ta Tas
You Were All Wrong About Us
Oh Boy, You All Got So Fat
Derek
Two Out of Five Sexy Parts
Not Bad for Having Three Kids
Ad blocker interference detected!
Wikia is a free-to-use site that makes money from advertising. We have a modified experience for viewers using ad blockers

Wikia is not accessible if you've made further modifications. Remove the custom ad blocker rule(s) and the page will load as expected.