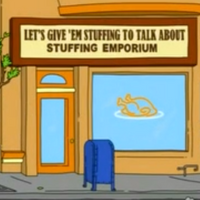 "LET'S GIVE 'EM STUFFING TO TALK ABOUT STUFFING EMPORIUM"
A play on the phrase, "Let's give em something to talk about."
"FROM MY COLD DEAD ANTS PEST CONTROL"
A play on the phrase, "From my cold dead hands."
A burger of the day is seen but is not fully visible, it appears to reference the Alanis Morissette album Jagged Little Pill, possibly "Jagged Little Dill."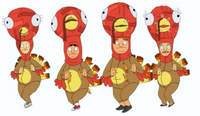 The cast of The Quirky Turkey perform the songs from said musical. Longest credits sequence to date.
Ad blocker interference detected!
Wikia is a free-to-use site that makes money from advertising. We have a modified experience for viewers using ad blockers

Wikia is not accessible if you've made further modifications. Remove the custom ad blocker rule(s) and the page will load as expected.