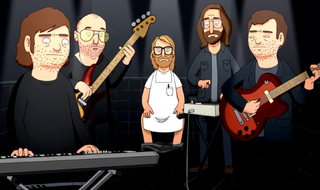 The National
are an American indie band formed in 1999 in Cincinnati, Ohio. The band has covered songs that have been sung by characters in the series that have been released via YouTube.
In November 2015, the release of a cover of Linda's "Thanksgiving for Everybody (Except for Europeans)" song was canceled following the terrorist attacks in Paris, which occurred after the airdate (November 8) of "Gayle Makin' Bob Sled, the episode which originally featured the song.[1]
In an interview with TV Insider published May 20, 2016. Show creator Loren Bouchard revealed that the band would be covering "Bad Stuff Happens in the Bathroom", the musical number featured in "Glued, Where's My Bob?."[2]It was later released on July 14, 2016 and features singer Matt Berninger singing Bob's part and English singer Låpsley singing Louise's part.
Members
Matt Berninger - lead vocals
Aaron Dessner - guitar, bass, piano, keyboards, harmonica, mandola, backing vocals
Bryce Dessner - guitar, keyboards, piano, backing vocals
Bryan Devendorf - drums, percussion, backing vocals
Scott Devendorf - bass, guitar, backing vocals
Songs covered
Trivia
References