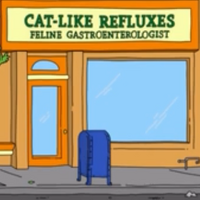 CUPID'S STUPID DIVORCE ATTORNEYS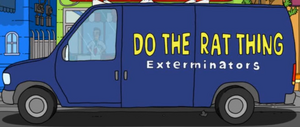 "DO THE RAT THING EXTERMINATORS"
A play on "Do the right thing".
"If you've got it, croissant it Burger"
A play on "If you've got it, flaunt it"
"Chile Relleno-You-Didn't Burger"
First Burger of the day to feature twice, appeared previously in Two for Tina.
"Parm-pit Burger" - Comes with Parmesan
"Scent of a Cumin Burger"
A play on the film "Scent of a Woman."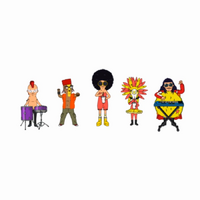 Itty Bitty Ditty Committee perform "Burgers and Fries" in a similar fashion to earlier in the episode when Regular Sized Rudy and Peter Pescadero start jamming, Darryl also appears.
| | | |
| --- | --- | --- |
| | Episode Navigation | v • t • e |

Season

Episodes

0

The Demo

1

Human Flesh • Crawl Space • Sacred Cow • Sexy Dance Fighting • Hamburger Dinner Theater • Sheesh! Cab, Bob? • Bed & Breakfast • Art Crawl • Spaghetti Western and Meatballs • Burger War • Weekend at Mort's • Lobsterfest • Torpedo

2

The Belchies • Bob Day Afternoon • Synchronized Swimming • Burgerboss • Food Truckin' • Dr. Yap • Moody Foodie • Bad Tina • Beefsquatch

3

Ear-sy Rider • Full Bars • Bob Fires the Kids • Mutiny on the Windbreaker • An Indecent Thanksgiving Proposal • The Deepening • Tina-Rannosaurus Wrecks • The Unbearable Like-Likeness of Gene • God Rest Ye Merry Gentle-Mannequins • Mother Daughter Laser Razor • Nude Beach • Broadcast Wagstaff School News • My Fuzzy Valentine • Lindapendent Woman • O.T. The Outside Toilet • Topsy • Two for Tina • It Snakes a Village • Family Fracas • The Kids Run the Restaurant • Boyz 4 Now • Carpe Museum • The Unnatural

4

A River Runs Through Bob • Fort Night • Seaplane! • My Big Fat Greek Bob • Turkey in a Can • Purple Rain-Union • Bob and Deliver • Christmas in the Car • Slumber Party • Presto Tina-O • Easy Com-mercial, Easy Go-mercial • The Frond Files • Mazel Tina • Uncle Teddy • The Kids Rob a Train • I Get Psy-chic Out of You • The Equestranauts • Ambergris • The Kids Run Away • Gene It On • Wharf Horse • World Wharf II: The Wharfening

5

Work Hard or Die Trying, Girl • Tina and the Real Ghost • Friends with Burger-fits • Dawn of the Peck • Best Burger • Father of the Bob • Tina Tailor Soldier Spy • Midday Run • Speakeasy Rider • Late Afternoon in the Garden of Bob and Louise • Can't Buy Me Math • The Millie-Churian Candidate • The Gayle Tales • Li'l Hard Dad • Adventures in Chinchilla-Sitting • The Runway Club • The Itty Bitty Ditty Committee • Eat, Spray, Linda • Housetrap • Hawk & Chick • The Oeder Games

6

Sliding Bobs • The Land Ship • The Hauntening • Gayle Makin' Bob Sled • Nice-Capades • The Cook, The Steve, The Gayle, & Her Lover • The Gene and Courtney Show • Sexy Dance Healing • Sacred Couch • Lice Things Are Lice • House of 1000 Bounces • Stand by Gene • Wag the Hog • The Hormone-iums • Pro Tiki/Con Tiki • Bye Bye Boo Boo • The Horse Rider-er • Secret Admiral-irer • Glued, Where's My Bob?

7

Flu-ouise • Sea Me Now • Teen-a Witch • They Serve Horses, Don't They? • Large Brother, Where Fart Thou? • The Quirkducers • The Last Gingerbread House on the Left • Ex MachTina • Bob Actually • There's No Business Like Mr. Business Business • A Few 'Gurt Men • Like Gene for Chocolate • The Grand Mama-pest Hotel • Aquaticism • Ain't Miss Debatin' • Eggs for Days • Zero Larp Thirty • The Laser-inth • Thelma & Louise Except Thelma is Linda • Mom, Lies, and Videotape • Paraders of the Lost Float • Into the Mild

8

Brunchsquatch • The Silence of the Louise • The Wolf of Wharf Street • Sit Me Baby One More Time • Thanks-Hoarding • The Bleakening • V for Valentine-detta • Y Tu Ga-Ga Tambien • The Secret Ceramics Room of Secrets • Sleeping with the Frenemy • The Hurt Soccer • Cheer Up, Sleepy Gene • The Trouble with Doubles • Go Tina on the Mountain • Are You There Bob? It's Me, Birthday • Boywatch • As I Walk Through the Alley of the Shadow of Ramps • Mo Mommy Mo Problems • Mission Impos-slug-ble • Something Old, Something New, Something Bob Caters for You

9

Just One of the Boyz 4 Now for Now

Unknown season

The Taking of Funtime One Two Three • Nightmare on Ocean Avenue Street • I Bob Your Pardon • Tweentrepreneurs • Better Off Sled • Live and Let Fly • Bobby Driver • Roller? I Hardly Know Her! • UFO No You Didn't • TBA • Lorenzo's Oil? No, Linda's • The Helen Hunt • Every Which Way but Goose • The Fresh Princ-ipal • Roamin' Bob-iday • TBA • TBA • Long Time Listener, First Time Bob • The Gene Mile • P.T.A. It Ain't So • If You Love It so Much, Why Don't You Marionette? • What About Blob? • Yes Without My Zeke
See also: Episode Guide