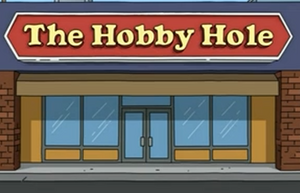 The Hobby Hole is a hobby store that Bob and Gene visit looking to get a helicopter to fight Sheldon with. It is revealed later that Sheldon used to work at the store until he was fired for shooting Terry in the knee after being approached to stop eating other employees food from the fridge in the break room.
Employees
Former Employees
Products
The Vanquisher
Sky-sassin
Ad blocker interference detected!
Wikia is a free-to-use site that makes money from advertising. We have a modified experience for viewers using ad blockers

Wikia is not accessible if you've made further modifications. Remove the custom ad blocker rule(s) and the page will load as expected.