"SOFT SERVE GENTLE PROCESS SERVERS"
A play on Soft Serve, a serving suggestion of ice cream.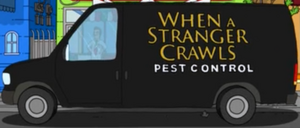 "WHEN A STRANGER CRAWLS PEST CONTROL"
A play on the movie, When a Stranger Calls.
"Nothing Compares 2 Blue (Cheese) Burger"
A play on the Sinéad O'Connor song, "Nothing Compares 2 U."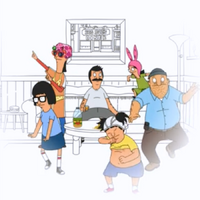 The family and Teddy are shown dancing in the apartment. Linda is wearing her disguise from the episode and Gene is wearing his underpants on his head as he did during the "dad-chelor party."
Ad blocker interference detected!
Wikia is a free-to-use site that makes money from advertising. We have a modified experience for viewers using ad blockers

Wikia is not accessible if you've made further modifications. Remove the custom ad blocker rule(s) and the page will load as expected.