'The Bob's Burgers Music Album'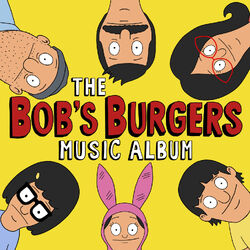 Release date: TBA
Recorded: 2010-2016
Genre: Soundtracks
Duration:
Record Label: Sub Pop US
No. of Tracks:
Producer:
The Bob's Burgers Music Album is an upcoming 2017 album containing original songs from the Fox animated series Bob's Burgers. It will contain songs from the first six broadcast seasons of the show.
Background
The album was first hinted at during the show's panel at the 2013 SDCC. Following that, Loren Bouchard frequently promised that the soundtrack would be coming.[1]
During the show's panel at the 2016 SDCC, it was confirmed that the album would be released in early December on Sub Pop records. Sub Pop had previously released comedy albums by cast members H. Jon Benjamin, Sarah Silverman and Eugene Mirman and Sleater Kinney's No Cities to Love which features the track "A New Wave" for which the music video was animated by Bento Box and features the main characters of Bob's Burgers.
Release and reception
On September 20, 2016, a four track extended play consisting of the full theme (including the rarely heard key change at the end), the version of "Electric Love" that appeared in "Topsy", the version of "Bad Stuff Happens in the Bathroom" that appeared in "Glued, Where's My Bob" and the St. Vincent version of "Bad Girls", originally from "Bad Tina" was released.
The album was due to be released on December 2, 2016, as a 2xCD with the catalog number SPCD1180 and a 3xLP with the catalog number SP1180 in Europe and Japan, but only a day before the expected release, it was confirmed that the album will now be released on April 7, 2017. The listing citing April 7 has since been deleted and the soundtrack now has an expected release date of May 12, 2017, 2017[2]
On February 12, 2017, Loren Bouchard replied on Twitter to a fan's question regarding the soundtrack saying, "ON FEB 23RD ALL YOUR SOUNDTRACK QUESTIONS WILL BE ANSWERED. OR, IF THEY'RE NOT, I CAN ANSWER THEM. AND I WILL. KEEP ASKING THEM."[3]
Track Listing
CD 1
TBA
CD 2
TBA
References
Ad blocker interference detected!
Wikia is a free-to-use site that makes money from advertising. We have a modified experience for viewers using ad blockers

Wikia is not accessible if you've made further modifications. Remove the custom ad blocker rule(s) and the page will load as expected.