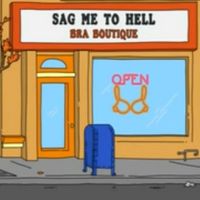 "SAG ME TO HELL BRA BOUTIQUE"
A play on the movie Drag me to Hell.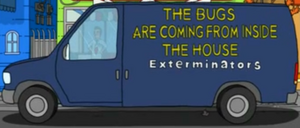 "THE BUGS ARE COMING FROM INSIDE THE HOUSE"
A play on the common Halloween movie trope, "The calls are coming from inside the house".
"Muenster Under the Bun Burger"
A play on the phrase "Monster Under the Bed".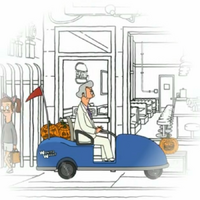 Mr. Fischoeder drives along Ocean Avenue in his golf buggy picking up Jack-o-lanterns from outside the properties. Teddy briefly appears driving his truck with bikes, the biker who appeared twice in the episode is seen reporting his bike being stolen and Tina flies on a broom in her "Sand-witch" costume. A song, "Witchy-Whitchy" plays.
Ad blocker interference detected!
Wikia is a free-to-use site that makes money from advertising. We have a modified experience for viewers using ad blockers

Wikia is not accessible if you've made further modifications. Remove the custom ad blocker rule(s) and the page will load as expected.