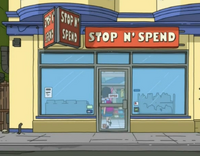 Stop n' Spend
is a convenience store. The interior first appeared in the "Robo-stache" segment of "
Sliding Bobs
" and the exterior was first seen in "
Like Gene for Chocolate
", where Gene discovers that his favorite candy, Chunky Blast Offs, have been reformulated.
Trivia
Gene's favorite employee was Ronnie, who has since left to join the peace corps.
Ad blocker interference detected!
Wikia is a free-to-use site that makes money from advertising. We have a modified experience for viewers using ad blockers

Wikia is not accessible if you've made further modifications. Remove the custom ad blocker rule(s) and the page will load as expected.