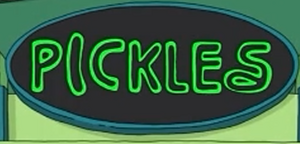 Pickles
is a male strip club that ironically actually serves pickles. In "
Hamburger Dinner Theater
"
Linda
claims she is going there for a bachelorette party there when she is actually gong to Off Ramp Broadway Dinner Theater. In "
My Fuzzy Valentine
" Pickles is on the list of establishments that
Hugo
and
Ron
visit during the day. When Ron gives a carbon copy of the list to
Bob
he along with the kids in tow visit them all including Pickles. In "
V for Valentine-detta
",
Nat
drives her limousine past the club while Linda stands up through the sunroof and yells "Whoo! Pickles!"