Not to be confused with Tiny Peter
"
What's a beverage?
"

— Peter Pescadero
Peter Pescadero is a student who attends Wagstaff School along with the Belcher children.
Appearance
In his first appearance (Spaghetti Western and Meatballs) he has short brown hair, wears a white shirt and green pants, but from his next appearance onwards (Synchronized Swimming) he is taller, has reddish brown hair, wears a lime green shirt and tan shorts.
Hobbies and Interests
Magic
He practices magic under the name, "The Impescadaralist." In Presto Tina-o he wins the young magicians' competition winning a $1000 check from Mars Sazerac.
Music
Peter plays the recorder. In Work Hard or Die Trying, Girl he puts forward a 'fall' themed musical he composed for the fall musical composed on the recorder. Later in the episode, he plays Tony in the "Work Hard or Die Trying, Girl" musical. In The Itty Bitty Ditty Committee it is revealed that he is in an orchestra with Regular Sized Rudy where he plays said recorder. Despite saying that he couldn't sing in said episode, he is shown to be a member of the Hormone-iums vocal group in "The Hormone-iums" and sings a song he and Zeke wrote promoting the Women's Issues Club in "The Quirkducers."
Trivia
His last name means 'fish merchant' in Spanish.
He has a learning disability as stated by Louise (Spaghetti Western and Meatballs). He also has partial hearing loss as stated by Gene (The Unbearable Like-Likeness of Gene).
Peter was the owner of a sasquatch mask that he traded to Gene in exchange for teaching him how to pop n' lock. Gene returned the mask when Peter's ability proved to be lacking (Beefsquatch).
He became the Home Ec-staurant's "beverage guy", despite being unsure of what a beverage is (Bob and Deliver).
Peter is in the Women's Issues Club with Zeke. ("The Quirkducers").
Appearances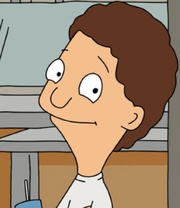 Gallery