Bob's Burgers character
Officer Cliffany
Gender
Female
Hair
Blonde
Age
39
Occupation
Police Officer
Behind the scenes
First
""Hamburger Dinner Theater""
Voiced by
Sam Seder
Officer Cliffany is a local tall, androgynous, and overweight police officer. She works frequently with Officer Julia whenever there is a case in town. She first appeared in the episode, Hamburger Dinner Theater.
Cliffany first appeared when Mort used his "fake" bloody guts and organs to portray as a murder scene in Linda's Dinner Theater. She appeared again at the restaurant when a robbery occurred during the Dinner Theater.
Officer Cliffany hasn't made a speaking appearance since Lobsterfest in Season 1 but was seen amongst other police officers in Bob Day Afternoon, in the audience for "Cake" in Bad Tina and escorting Fanny into a police car at the end of World Wharf II: The Wharfening (or How Bob Saves/Destroys the Town - Part II).
Appearances
Trivia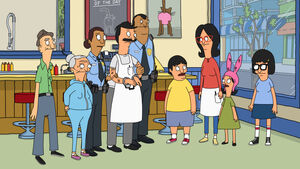 *An early promotional image for the episode
Art Crawl
depicts Officer Cliffany as being an African-American man, and having a different hairstyle.