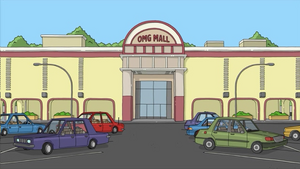 OMG Mall
is a shopping mall that is often visited by the characters in
Bob's Burgers
. It first appears in "
Bad Tina
" where
Tina
,
Tammy
,
Jimmy, Jr.
and
Zeke
while cutting class. The mall is the main setting for the episode, "
Nice-Capades
" where the kids stage their Nice Capades show there in an effort to convince an actor portraying Santa that they're nice.
Known Tennants
Fudge 'N Stuff
The Visor Advisor
Pokey Piercings
Socks to Me
Hat-erosexual
Mrs. Cookielady
Blouse House
Capris to Be You and Me
Smoothie Operator
Whacky Khaki

Jean on Me
The Flannel Islands
Shirts That Say Stuff
Shorts Illustrated
Crop Tops for Pops
The Fudge-itive
Ornamentary People
Purse Jackie
Family Jewels
Electric Heels
Pasty Ray's Tanning Salon
Info
During the holidays, there is an opportunity to meet Santa and an indoor ice rink named "The Rinky Dink", named after Calvin Fischoeder's 'dink'.