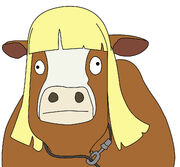 Moo-Lissa
is a cow left outside 
Bob's Burgers
 during by 
Randy Watkins
while making a documentary on the beef industry.
Bob
is given 5 days to decide whether to send Moo-Lissa to the slaughterhouse or save him. During this time Bob has reservations about killing the cow and ends up feeling sorry for Moo-Lissa taking him inside his house. However Linda refuses and takes it back outside leading to the cow being stolen. When Moo-Lissa is retrieved he dies of a heart attack not long after. In a subconscious dream sequence of Bob's, Moo-Lissa tells Bob to make burgers from his beef and they share a kiss.
Trivia
Moo-Lissa is the first animal character to be featured on the show and the first character to die onscreen.
Although the name leads one to believe Moo-Lissa is a girl, during the course of the episode it is revealed that he is a bull.
In reality, he couldn't talk due to being an animal, in the aforementioned fantasy sequence his is voiced by Todd Barry.
Ad blocker interference detected!
Wikia is a free-to-use site that makes money from advertising. We have a modified experience for viewers using ad blockers

Wikia is not accessible if you've made further modifications. Remove the custom ad blocker rule(s) and the page will load as expected.