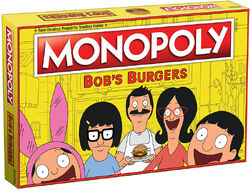 Monopoly: Bob's Burgers Edition
is a board game released by USAopoly. It is based on the popular board game Monopoly. The game will be released in the US and Canada shipping March 2017.
[1]
Gameplay
The gameplay is identical to the classic Monopoly board game but with the locations on the board replaced with those featured in the show. The tokens are of the Belcher Family and Teddy. Several hallmarks elements of the game are renamed including 'Community Chest' and 'Chance cards' which are renamed 'Community Garden' and 'White Pants Take A Chance' respectively. Houses and Hotels are renamed Modest Apartments and Beautiful Mansions, respectively. The money in the game is also custom themed.
Gallery
References
External Links
Ad blocker interference detected!
Wikia is a free-to-use site that makes money from advertising. We have a modified experience for viewers using ad blockers

Wikia is not accessible if you've made further modifications. Remove the custom ad blocker rule(s) and the page will load as expected.