"BRUSH IT AGAIN SAM REFURBISHED TOOTHBRUSHES"
A play on the famous misquote originating from the movie Casablanca, "Play it Again, Sam."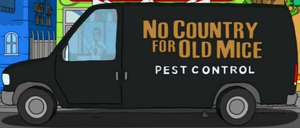 "NO COUNTRY FOR OLD MICE PEST CONTROL"
A play on the movie, No Country for Old Men.
"Bites-"
"Citizen Kale" Burger
A play on the Orson Welles movie, Citizen Kane.
"It Takes Two to Mango"
Presumed, not fully visible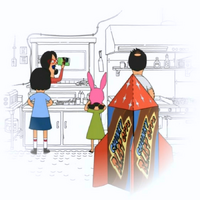 Gene walks inside the Chunky Blast Offs display, he later starts dancing and later falls over. Chunky Blast Offs jingle plays. Linda is eating candy.
Ad blocker interference detected!
Wikia is a free-to-use site that makes money from advertising. We have a modified experience for viewers using ad blockers

Wikia is not accessible if you've made further modifications. Remove the custom ad blocker rule(s) and the page will load as expected.