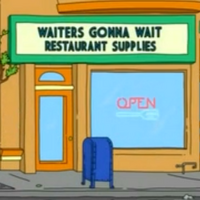 "WAITERS GONNA WAIT RESTAURANT SUPPLIES"
A play on the phrase, "Haters gonna hate".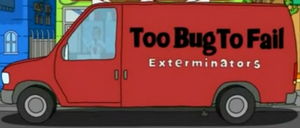 "TOO BUG TO FAIL EXTERMINATORS "
A play on the phrase, "Too big to fail".
"The Olives Kitteridge Burger" (with olive tapenade)

The final shot fades to white into the credits with the lobster balloon keeping color. The lobster balloon starts singing "The Briefest of Glances." Balloons of Tina, Joe Harrison, and various colors float up near the end.
Ad blocker interference detected!
Wikia is a free-to-use site that makes money from advertising. We have a modified experience for viewers using ad blockers

Wikia is not accessible if you've made further modifications. Remove the custom ad blocker rule(s) and the page will load as expected.