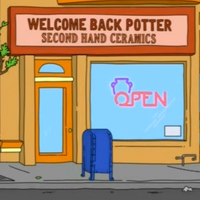 "WELCOME BACK POTTER SECOND HAND CERAMICS"
A play on the 1970s sitcom Welcome Back, Kotter.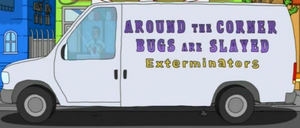 "AROUND THE CORNER BUGS ARE SPRAYED EXTERMINATORS"
A play on the line "Around the corner fudge is made" from the children's poem often called "Milk, Milk, Lemonade."
"Pear Goes the Neighborhood" (comes with a side of pear salad)
A play on the phrase "There goes the neighborhood."
Standard credit sequence. Bob sings Sly and the Family Stone's "I Want to Take You Higher" while in a climbing harness. Later, a rope comes down and Bob is lifted up off screen.
Ad blocker interference detected!
Wikia is a free-to-use site that makes money from advertising. We have a modified experience for viewers using ad blockers

Wikia is not accessible if you've made further modifications. Remove the custom ad blocker rule(s) and the page will load as expected.