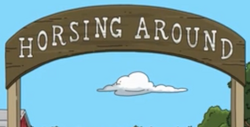 Horsing Around Riding Center
is a horse riding center that
Tina
goes to in
The Horse Rider-er
along with
Tammy
and
Jocelyn
.
Trivia
Their motto is lifted from the lyrics of the theme song to the sitcom Mister Ed, "Where a horse is a horse, of course, of course", which instructors are contractually obligated to say, even if they don't understand the reference.
Employees
Horses
Ad blocker interference detected!
Wikia is a free-to-use site that makes money from advertising. We have a modified experience for viewers using ad blockers

Wikia is not accessible if you've made further modifications. Remove the custom ad blocker rule(s) and the page will load as expected.