Hawk and Chick is a Japanese martial arts film series that Bob and Louise enjoy watching together. Fourteen films total were made starring the ronin father-daughter team of Shinji Kojima and his daughter Yuki as wandering barbers during Japan's Era of Warring States(1467-1603) and their frequent encounters with giant monsters. The series stopped abruptly in 1985 after Kojima divorced his wife and no new films have been made since.
The series is a parody of real-life Samurai film series Lone Wolf and Cub.
Rising Hawk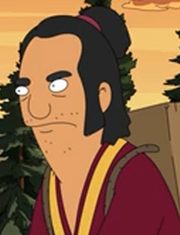 Played by
Shinji Kojima
, Hawk is a samurai barber. He is voiced by
Keisuke Hoashi
.
Chick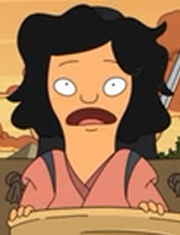 Played by
Yuki Kojima
, Chick is Hawk's daughter.
Known Films
Hawk & Chick vs Jellyfish Monster
Hawk & Chick vs. Seaweed Monster
Hawk & Chick vs. 6-Headed Geisha
Hawk & Chick vs. Tsukumogami
Hawk & Chick vs. Sharkman
Hawk & Chick vs. Giant Scorpion
Hawk & Chick Vs Giant Butterfly
Hawk & Chick vs. Snow Monster
Hawk & Chick Vs Sticky Rice Monster
Hawk & Chick Vs Six-Headed Sumo
Hawk & Chick: The Final Battle
2 films unaccounted for. Possibly not translated/subtitled into English.
Ad blocker interference detected!
Wikia is a free-to-use site that makes money from advertising. We have a modified experience for viewers using ad blockers

Wikia is not accessible if you've made further modifications. Remove the custom ad blocker rule(s) and the page will load as expected.