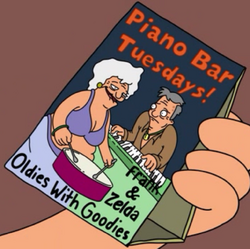 Frank and Zelda
are a keyboard/drum duo who perform under the strapline "Oldies with Goodies" at
Jimmy Pesto's Pizzeria
.
In Burger Wars, Jimmy Pesto, Jr. mentions that they had became ill with food poisoning due to eating the scampi.
They are yet to make an actual onscreen appearance in the series.
Ad blocker interference detected!
Wikia is a free-to-use site that makes money from advertising. We have a modified experience for viewers using ad blockers

Wikia is not accessible if you've made further modifications. Remove the custom ad blocker rule(s) and the page will load as expected.