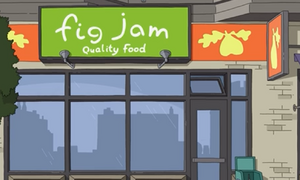 Fig Jam
is a specialty food store located on third. They are apparently named so because they have good fig jam, according to
Ron
. Artisan products they sell include black garlic, dark chocolate with bacon and red pepper flakes which sells for $13 and sea salt caramel crisps from Belgium.
In Best Burger the kids are told to go there after Gene accidentally destroys the black garlic in the kitchen at Bob's Burgers as it is the only store in the town that sells the ingredient. However the kids are banned following an argument over the store's high prices with store employee, Ray. When Gene accidentally gives away the money needed to buy the ingredient the kids resort to stealing the ingredient and Ray gives chase. Ray eventually ends up returning to the store after he realizes he was the only one working there.
Banned Individuals
Ad blocker interference detected!
Wikia is a free-to-use site that makes money from advertising. We have a modified experience for viewers using ad blockers

Wikia is not accessible if you've made further modifications. Remove the custom ad blocker rule(s) and the page will load as expected.