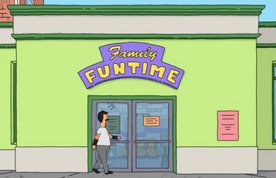 Family Funtime
is a local family entertainment center.
It first appears in the episode "Burgerboss" where Bob visits the arcade to play the arcade game Burger Boss to beat Jimmy Pesto's high score. Also during the episode, the kids crash kids birthday parties the party room while Bob uses them so he can get in to the arcade because adults aren't allowed with children.
It appears again in a scene during the "Bad Things Are Bad" musical number in "World Wharf II: The Wharfening (or How Bob Saves/Destroys the Town - Part II)."
It will supposedly be a main setting for the upcoming episode, "The Taking of Funtime One Two Three."
Games Featured in the Arcade
Burgerboss
Moats
Starfighter
Space Runner (pacman parody)
Fuzzy Ball
Ball-party
Debate Heroes
Karate Twins
Lane Merger
Battle Bellies

Driving Fast
Gun Shooter 3
Ninja Police
Skee Bowl/Skee Ban (possible naming error)
Dreamachine
Puck Buddies
Block Blaster
The helicopter game's logo next to Ninja Police isn't seen in some shots but when it does it doesn't appear to have a name.
Trivia
Family Funtime is a parody of family entertainment center, "Chuck E. Cheese's".
Darryl, a known video game enthusiast has achieved high scores on many of the games in the arcade.
Many of the arcade games seen in the arcade have been seen elsewhere in the series, such as in Spare Change Lanes in "Can't Buy Me Math" where Rosa Batista is shown playing 'Moats.'
It is described by Speedo Guy as where old games "go to die."
The security guard seen working the door in "Burgerboss" was also seen working at the roller rink in "Adventures in Chinchilla-Sitting".
Ad blocker interference detected!
Wikia is a free-to-use site that makes money from advertising. We have a modified experience for viewers using ad blockers

Wikia is not accessible if you've made further modifications. Remove the custom ad blocker rule(s) and the page will load as expected.