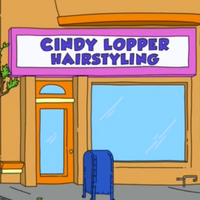 "CINDY LOPPER HAIRSTYLING"
A play on the singer, Cyndi Lauper.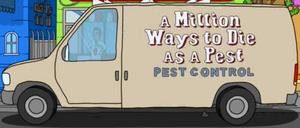 "A MILLION WAYS TO DIE AS A PEST PEST CONTROL"
A play on the 2014 movie, A Millions Ways to Die in the West.
"Caper the Friendly Goat Cheese Burger (s/w capers & feta)"
Assumed, not fully visible.
A play on the television series, Casper the Friendly Ghost.
"Video Killed the Radicchio Star Burger"
Assumed, not fully visible.
A play on the song by The Buggles, "Video Killed the Radio Star."
"If You've Got It, Croissant It Burger"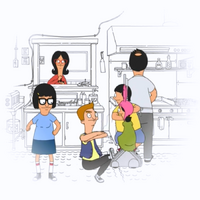 Standard credit sequence. Tina and Jimmy Pesto, Jr. are shown dancing in the kitchen. Jimmy, Jr. is doing his 'desert island dance.' He briefly tires out but eventually resumes. Linda is controlling Tina's robot with Gene and Louise riding on it. A soundbite from the episode of Jocelyn saying, "Look at me, look at me, I'm a robot" plays over production logos.
Ad blocker interference detected!
Wikia is a free-to-use site that makes money from advertising. We have a modified experience for viewers using ad blockers

Wikia is not accessible if you've made further modifications. Remove the custom ad blocker rule(s) and the page will load as expected.