"LIN-MANUEL'S VERANDAS PATIO FURNITURE"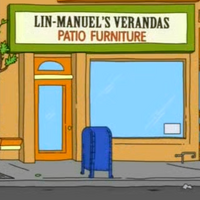 A reference to the actor and composer Lin-Manuel Miranda.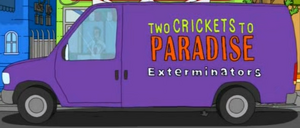 "TWO CRICKETS TO PARADISE EXTERMINATORS"
A play on the Eddie Money song, "Two Tickets to Paradise."
"Emergency Eggs-it Burger"
A play on emergency exit.
"Passion of the Cress Burger"
A play on the 2004 movie, The Passion of the Christ.
Another Burger of the Day is just about visible in the establishing shot of the restaurant when Teddy gives masks to the family.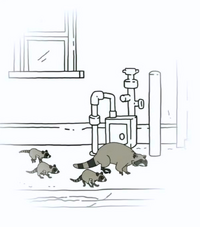 Big Baby Pudding Snatcher and her offspring walk through the alley behind the restaurant. Teddy and Linda watch on. A cover of Randy Crawford's "Street Life" plays.
Ad blocker interference detected!
Wikia is a free-to-use site that makes money from advertising. We have a modified experience for viewers using ad blockers

Wikia is not accessible if you've made further modifications. Remove the custom ad blocker rule(s) and the page will load as expected.