Dog Prom is a film franchise that has featured throughout the series.
Dog Prom (rated G)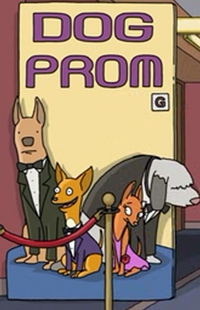 Tina, Jimmy, Jr. and Zeke are going to see this movie before Tammy drags them off to see the R-rated Neverending Gory.
Dog Prom 2
The title is displayed on the marquee of Cinema 4 in The Unbearable Like-Likeness of Gene
Dog Prom 3D
The family are going to see this movie when their car breaks down on the way to the theater in Family Fracas.
Other Appearances
On the Hot Topic exclusive cover of Bob's Burgers Comics Issue 7, a Dog Prom t-shirt can be seen in the store featured on the cover.
Ad blocker interference detected!
Wikia is a free-to-use site that makes money from advertising. We have a modified experience for viewers using ad blockers

Wikia is not accessible if you've made further modifications. Remove the custom ad blocker rule(s) and the page will load as expected.