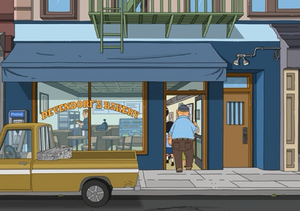 Devendorf's Bakery
is a bakery that
Gene
frequently visits with
Linda
.
In Eat, Spray, Linda, Linda is missing and the rest of the family and Teddy visit the bakery in case she is there. They find that Linda is on the do not feed board as she had been abusing the free sample policy, revealing that she often visits without Gene.
Other people on the do not feed board include a man who wanted his crusts cut off, a woman who touches everything, a man who is really racist and a baby who according to the baker was just being a jerk.
Trivia
The bakery is possibly named after the Devendorf siblings (Bryan and Scott) who are members of indie band, The National who have worked with Bob's Burgers.
Ad blocker interference detected!
Wikia is a free-to-use site that makes money from advertising. We have a modified experience for viewers using ad blockers

Wikia is not accessible if you've made further modifications. Remove the custom ad blocker rule(s) and the page will load as expected.