Bob's Burgers character
Derek Dematopolis
Gender
Male
Hair
Brown
Occupation
Dermatologist
Behind the scenes
First
"Purple Rain-Union"
Voiced by
Larry Murphy
Derek Dematopolis is a former student of Cardinal Gennaro High School and a dermatologist. He is Gayle's high school crush. He and Gayle later hook up after Gayle sings a song about him.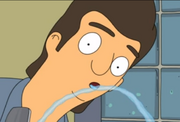 Ad blocker interference detected!
Wikia is a free-to-use site that makes money from advertising. We have a modified experience for viewers using ad blockers

Wikia is not accessible if you've made further modifications. Remove the custom ad blocker rule(s) and the page will load as expected.