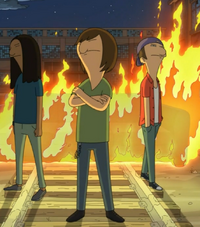 The
Couch Burners
are a band that appear in
Sacred Couch
. They acquire the Belchers old couch from
Teddy
so they can shoot a flyer for a show at
The Ear Drum
. They agree to give the couch back after the family offer the non-returnable floor model couch bought at
Sofa Queen
.
Trivia
Despite it not being mentioned which instruments either of the members play, a cast list posted by John Roberts mentions that Keegan-Michael Key voices the bass player and Jordan Peele character voices the singer.[1]
They were formerly known as Melon Smashers and Vase Breakers.
Their only known song is called "If You Love Something, Set it on Fire".
References