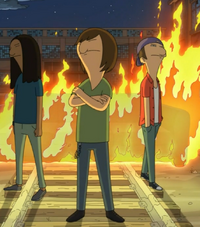 The
Couch Burners
are a band that appear in
Sacred Couch
. They acquire the Belchers old couch from
Teddy
so they can shoot a flyer for a show at
The Ear Drum
. They agree to give the couch back after the family offer the non-returnable floor model couch bought at
Sofa Queen
.
Trivia
Despite it not being mentioned which instruments either of the members play, a cast list posted by John Roberts mentions that Keegan-Michael Key voices the bass player and Jordan Peele character voices the singer.[1]
They were formerly known as Melon Smashers and Vase Breakers.
Their only known song is called "If You Love Something, Set it on Fire".
References
Ad blocker interference detected!
Wikia is a free-to-use site that makes money from advertising. We have a modified experience for viewers using ad blockers

Wikia is not accessible if you've made further modifications. Remove the custom ad blocker rule(s) and the page will load as expected.