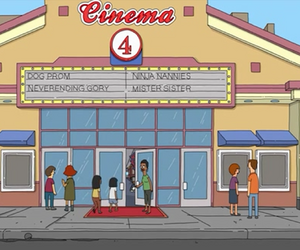 Cinema 4
is a movie theater that is seen in
Bad Tina
and
The Unbearable Like-Likeness of Gene
.
In Bad Tina, Tina visits the theater along with Jimmy, Jr., Zeke and Tammy Larsen. At first they are going to see "Dog Prom" but Tammy then pulls Tina into seeing the R-rated "Neverending Gory".
In The Unbearable Like-Likeness of Gene, Gene and Courtney Wheeler go on a double date with Julie and Lenny DeStefano to the theater.
Ad blocker interference detected!
Wikia is a free-to-use site that makes money from advertising. We have a modified experience for viewers using ad blockers

Wikia is not accessible if you've made further modifications. Remove the custom ad blocker rule(s) and the page will load as expected.