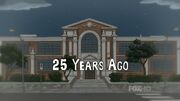 Cardinal Gennaro High School
is a high school that was attended by
Linda
and
Gayle
. It played host to
The Ta Tas
' reunion show at a class of '88 25 year reunion in
Purple Rain-Union
.
Former students
Notes
It was not established if Debbie (who introduces The Ta Ta's at the talent show in 1988 and later organizes the reunion) was a member of the staff of Cardinal Gennaro High school, a student, both, or neither.
The name "Cardinal Gennaro" most likely refers to an official in the Catholic Church. It was not officially stated that Cardinal Gennaro High is a Catholic school, and there was no indication of this in the school's design/decor.
Ad blocker interference detected!
Wikia is a free-to-use site that makes money from advertising. We have a modified experience for viewers using ad blockers

Wikia is not accessible if you've made further modifications. Remove the custom ad blocker rule(s) and the page will load as expected.