Ad blocker interference detected!
Wikia is a free-to-use site that makes money from advertising. We have a modified experience for viewers using ad blockers

Wikia is not accessible if you've made further modifications. Remove the custom ad blocker rule(s) and the page will load as expected.
Burgerboss is the fourth episode in Season 2 of Bob's Burgers. It is the seventeenth overall. It is the first episode to feature guest star Aziz Ansari as Darryl.
Plot
The episode starts as Bob is showing off a video game that he bought for the restaurant, hoping for more income. The video game is Burgerboss, an old-school game that Bob known for being the best in his school at it. Jimmy Pesto looks over, and Bob lets him give it a try. Jimmy beats Bob's high score, and has his name written as "BOB SUX" to humiliate him. Bob gets obsessed with beating the high score to clear his name, so he spends countless hours on it, to the point where he gets Carpel Tunnel Syndrome, and has to take painkillers and wear a brace on each arm.
Linda gets very tired of Bob's obsession with beating the game, so she has it sent off, with "BOB SUX" still on the leader board. Bob runs after the truck carrying it and finds out that it was sent to an arcade called Family Funtime. Bob takes a visit, only to find out that he needs to have his kids present with him. Lying to Linda, he takes the children to what she believes are sailing lessons. As they go to the arcade, the kids freeload off of a kid named Kevin's party, and Bob attempts to beat the high score on Burgerboss.
Darryl, a video game enthusiast, decides to teach Bob on the condition that he beats up his bully, Tyler. Bob agrees, and they start playing, while the kids are starting to get bored of crashing the birthday parties. They head to the building next door, Glencrest Yacht Club. Going inside, they start to cause mischief, while Bob meets Darryl's bullies at the arcade. Bob takes more of his painkillers, much to Darryl's disapproval, and he gets beat up. Bob wakes up to find Tyler as a chicken leg from the game, a result from the drugs.
While Bob runs after Tyler, he runs into the yacht club where the kids are, and starts to fight off the workers. A member calls Linda about the incident, and she heads down to see what is going on. She believes it's a great achievement to be proud of, but she soon finds out the truth when she sees the damage done by Bob and the kids. Jimmy Pesto happens to be a member, and Linda yells at him for starting this crazy war with the video game, calling it one of his "peeing races." The other members decide to question whether to kick Jimmy out of membership or not, while Linda takes her family home, very upset.
In the end, Darryl makes a visit to the restaurant to see Bob's restaurant, and notes that he was right about Linda's big breasts. Bob tells his family that he doesn't mind "BOB SUX" being at the top of the leader board anymore, as he kisses Linda. After she leaves, Bob then gives Darryl some cash to knock "BOB SUX" off the high score.
Production
On March 30, 2012, a hint towards the episode was given by the staff by showing the game cartridge for Burgerboss, the fictional game within the episode. Before airing, Darryl's name was spelled wrong as Darrell numerous times from FOX's press releases, and the true spelling was revealed in the credits.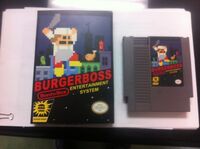 | | | |
| --- | --- | --- |
| | Episode Navigation | v • t • e |

Season

Episodes

0

The Demo

1

Human Flesh · Crawl Space · Sacred Cow · Sexy Dance Fighting · Hamburger Dinner Theater · Sheesh! Cab, Bob? · Bed & Breakfast · Art Crawl · Spaghetti Western & Meatballs · Burger War · Weekend at Mort's · Lobsterfest · Torpedo

2

The Belchies · Bob Day Afternoon · Synchronized Swimming · Burgerboss · Food Truckin' · Dr. Yap · Moody Foodie · Bad Tina · Beefsquatch

3

Ear-Sy Rider · Full Bars · Bob Fires the Kids · Mutiny on the Windbreaker · An Indecent Thanksgiving Proposal · The Deepening · Tina-Rannosaurus Wrecks · The Unbearable Like-Likeness of Gene · God Rest Ye Merry Gentle-Mannequins · Mother Daughter Laser Razor · Nude Beach · Broadcast Wagstaff School News · My Fuzzy Valentine · Lindapendent Woman · O.T. The Outside Toilet · Topsy · Two for Tina · It Snakes a Village · Family Fracas · The Kids Run the Restaurant · Boyz 4 Now · Carpe Museum · The Unnatural

4

A River Runs Through Bob · Fort Night · Seaplane! · My Big Fat Greek Bob · Turkey in a Can · Purple Rain-Union · Bob and Deliver · Christmas in the Car · Slumber Party · Presto Tina-O · Easy Com-mercial, Easy Go-mercial · The Frond Files · Mazel Tina · Uncle Teddy · The Kids Rob a Train · I Get Psy-chic Out of You · The Equestranauts · Ambergris · The Kids Run Away · Gene It On · Wharf Horse (or How Bob Saves/Destroys the Town - Part I) · World Wharf II: The Wharfening (or How Bob Saves/Destroys the Town - Part II)

5

Work Hard or Die Trying, Girl · Tina and the Real Ghost · Friends with Burger-fits · Dawn of the Peck · Best Burger · Father of the Bob · Tina Tailor Soldier Spy · Midday Run · Speakeasy Rider · Late Afternoon in the Garden of Bob & Louise · Can't Buy Me Math · The Millie-Churian Candidate · The Gayle Tales · Li'l Hard Dad · Adventures in Chinchilla-Sitting · The Runway Club · The Itty Bitty Ditty Committee · Eat, Spray, Linda · Housetrap · Hawk & Chick · The Oeder Games

6

Sliding Bobs · The Land Ship · The Hauntening · Gayle Makin' Bob Sled · Nice-Capades · The Cook, The Steve, The Gayle, & Her Lover · The Gene and Courtney Show · Sexy Dance Healing · Sacred Couch · Lice Things Are Lice · House of 1000 Bounces · Stand by Gene · Wag the Hog · The Hormone-iums · Pro Tiki/Con Tiki · Bye Bye Boo Boo · The Horse Rider-er · Secret Admiral-irer · Glued, Where's My Bob?

7

Flu-ouise · Sea Me Now · Teen-a Witch · They Serve Horses, Don't They? · Large Brother, Where Fart Thou? · The Quirkducers · The Last Gingerbread House on the Left · Ex Machtina · Like Gene for Chocolate · The Grand Mama-pest Hotel · There's No Business Like Mr. Business Business · Aquaticism · A Few 'Gurt Men · Ain't Miss Debatin' · Eggs for Days · Bob Actually · Zero LARP Thirty · The Laser-inth · Thelma & Louise Except Thelma is Linda · Mom, Lies, and Videotape · Paraders of the Lost Float · Into the Mild

8

The Wolf of Wharf Street · Sit Me Baby One More Time · The Silence of the Louise · Cheer Up Sleepy Gene · Boywatch · Y Tu Ga-Ga Tambien · The Taking of Funtime One Two Three

9

See also: Episode Guide