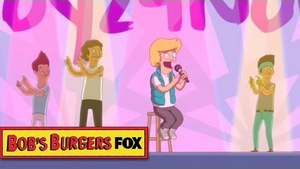 Boyz4Now
sometimes abbreviated as
B4N
were a boy band.
Tina
and
Louise
go to one of their concerts in the episode,
Boyz 4 Now
and Louise ends up having a crush on one of the members,
Boo Boo
. After their concert, Tina and Louise get in their tour bus and hide in a hamper. After Louise gets caught, she goes up to Boo Boo, and slaps him, resulting in Tina and Louise getting kicked off the bus.
They appear in The Gayle Tales as "Boys Fore the Present Tyme" performing the "Heine Limey" at the ball in Tina's "Lady Chatter-teeth's Lover" essay.
The music video for their song, "I Love U So Much (It's Scary)" appears at the end of The Hauntening, a very obvious parody of the Backstreet Boys song "Everybody (Backstreet's Back)."
Breakup
In Bye Bye Boo Boo, they break up and Boo Boo embarks on a solo career.
Trivia
Their name is most likely a parody of the boy band Boyz II Men, this is even more evident as the working title (and most likely an earlier name for the band) for the episode Boyz 4 Now was Men 2 Be.
Band Members
Employees
Appearances
Gallery
Ad blocker interference detected!
Wikia is a free-to-use site that makes money from advertising. We have a modified experience for viewers using ad blockers

Wikia is not accessible if you've made further modifications. Remove the custom ad blocker rule(s) and the page will load as expected.