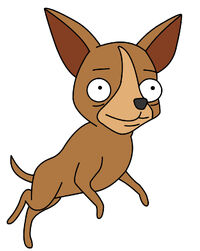 Bitsy
is
Helen Kellerman
's pet dog.
Believed to have been eaten by a Burmese python, Helen sends Tina, Gene and Louise into the glades to capture the snake. After finding Bitsy alive they return him to Helen who proceeds to dress him up. Bitsy then runs off back into the glades and Tina tells Helen that he seemed happy in there. Helen then shouts to him that she supports him no matter what he wants to do.
At the end of the episode it is revealed that Bitsy is in a good relationship with a python nesting in a hollowed-out tree truck near to where the kids found him.
Ad blocker interference detected!
Wikia is a free-to-use site that makes money from advertising. We have a modified experience for viewers using ad blockers

Wikia is not accessible if you've made further modifications. Remove the custom ad blocker rule(s) and the page will load as expected.