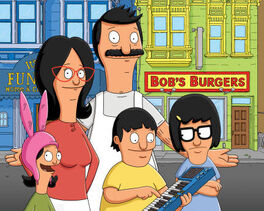 The Belcher Family is one of the main families in the show.
Family Members
Main Family
Extended Family
Gloria (Linda's mother)
Al (Linda's father)
Gayle (Linda's sister)
Burt (Gloria's father/Linda and Gayle's grandfather)
Big Bob (Bob's father)
Ernest Lombard (Bob's maternal uncle)
Vanessa (Bob's cousin)
Vanessa (Linda's cousin)
Appearance
The Belcher family share most of their physical traits, signifying strong genetic makeup. The family patriarch Bob has black hair, olive skin, and a great deal of body hair. Since Linda shares some of these qualities, it is typical that their children would inherit their parents' physical appearance.
Trivia
The Belcher family seems to have European origins, and share traits of Mediterranean descent, most likely Greek or Italian.
Belcher is an name that originates from Gaulish and the language d'Oïl, implying the family has French or French-Canadian heritage.
Ad blocker interference detected!
Wikia is a free-to-use site that makes money from advertising. We have a modified experience for viewers using ad blockers

Wikia is not accessible if you've made further modifications. Remove the custom ad blocker rule(s) and the page will load as expected.