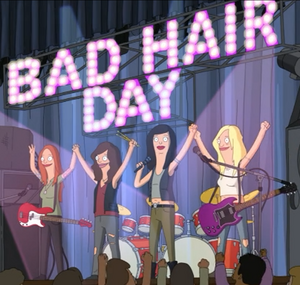 Bad Hair Day
are a band that formed at
Cardinal Gennaro High School
. They went on to become successful. They made an appearance at the 25 year reunion before
The Ta Tas
. Because they beat the band at a talent show,
Linda Belcher
, singer for The Ta Tas struggles to utter their name fully and gets stressed when she hears it.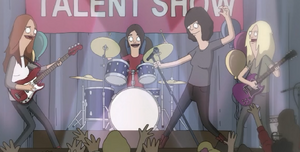 The bands' lead singer and guitarist are voiced by Sarah and Laura Silverman respectively.
On the Hot Topic exclusive cover of Bob's Burgers Comics Issue 7, a Bad Hair Day poster can be seen in the store featured on the cover, it appears to be a screenshot from Purple Rain-Union.
A band poster can also be seen in Sacred Couch at The Ear Drum music venue.
Gallery
Ad blocker interference detected!
Wikia is a free-to-use site that makes money from advertising. We have a modified experience for viewers using ad blockers

Wikia is not accessible if you've made further modifications. Remove the custom ad blocker rule(s) and the page will load as expected.