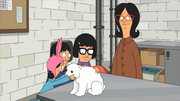 Amity
is an albino polar bear cub that resides at the
Bog Harbor Zoo
. His birth is reported on Channel 6 News in "
The Last Gingerbread House on the Left
," as a heart-warming Christmas story, being described as a "Christmas Bear-icle" by
Olsen Benner
. Later in the episode, it is revealed that
Calvin Fischoeder
and his friends all chipped in to pay for a Christmas Day cuddle session with Amity to serve as their prize for the Gingerbread Gentlemen's Annual Gingerbread House Competition. After Bob is declared the winner by
Godfrey
, he takes the family along with the Fischoeders and the other competitors to the cuddle session.
Trivia
Despite his name being a female name of Latin origin, Amity is male as stated by several characters. It is a virtue name that means "friendship and harmony."[1] This is like Moo-Lissa and Princess Little Piddles being given female names despite anatomically being male.
He is born with albinism which heavily implies that the skin under his fur coat is a lighter color than the usual black skin on a polar bear. His nose, paws, and eyes appear to be pink in color.
References
Ad blocker interference detected!
Wikia is a free-to-use site that makes money from advertising. We have a modified experience for viewers using ad blockers

Wikia is not accessible if you've made further modifications. Remove the custom ad blocker rule(s) and the page will load as expected.