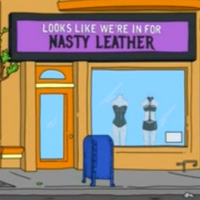 "LOOKS LIKE WE'RE IN FOR NASTY LEATHER"
A play on the line, "Looks like we're in for nasty weather" from the Creedence Clearwater Revival song, "Bad Moon Rising."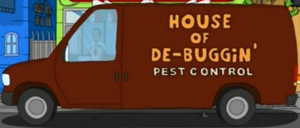 "HOUSE OF DE-BUGGIN' PEST CONTROL"
A reference to the 1995 Saturday Night Live comedy sketch House of Buggin'
"The Choys are Pak in Town Burger"
Presumed, not fully visible
A play on the Thin Lizzy song "The Boys are Back in Town."
"Easy as...."
Not fully visible, appears to be a play on the colloquial idiom "As easy as pie."
A trailer for the family's Meat Man movie plays.
Ad blocker interference detected!
Wikia is a free-to-use site that makes money from advertising. We have a modified experience for viewers using ad blockers

Wikia is not accessible if you've made further modifications. Remove the custom ad blocker rule(s) and the page will load as expected.